Afghanistan war: USAID spends too much, too fast to win hearts and minds
In the Afghanistan war, it's quantity vs. quality: The USAID battle for hearts and minds is being lost just as President Obama's 'civilian surge' prepares to more than double annual assistance to $5 billion.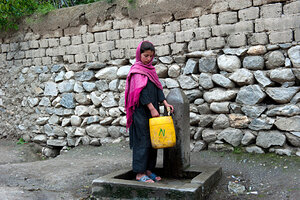 Monique Jaques/Special to the Christian Science Monitor
The US government strategy for improving its struggling reconstruction efforts in Afghanistan relies heavily on spending more money. More on bigger and quicker projects, more on aid workers, and more on monitors – a "civilian surge" to win hearts and minds.
That should be welcome news to development professionals who have spent careers toiling in ravaged regions with only band-aid budgets.
But in Afghanistan, some aid workers actually argue that the aid flow has become a desperate gambit – throwing too much money with too little thought at the problem. They say that perhaps less money is more.
Even consultants hired by the US Agency for International Development (USAID) to evaluate its Afghan projects drop such hints. Tucked near the bottom of a new report on a four-year, $60 million aid project in the remote northern province of Badakhshan (detailed in the Monitor's investigative piece "How USAID loses hearts and minds") lies the argument in almost haiku precision: "It would have been better to do less, but endow what was done with more staying power."
That's not the message USAID is getting from above, however. With a 2011 deadline for a troop drawdown, US military strategy is putting a lot of pressure on the agency – the biggest reconstruction actor in the country – to show more quick impact to help pacify the insurgency in time.
---