Pakistan likes Al Qaeda more than America
The US is in the middle of a $7.5 billion aid program to Pakistan. But America's image is slipping in the country, where its unfavorable rating is almost as bad as the Taliban's and even Al Qaeda is more popular.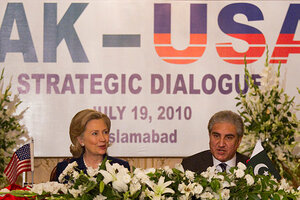 Adrees Latif/AP
The Pakistan Taliban may be responsible for attacks that have killed more than 1,000 civilians this year. The US may be in the midst of providing the country with $7.5 billion in aid. But average Pakistanis like the United States less than Al Qaeda and just a little more than the Taliban.
Roughly 17 percent of Pakistanis have a favorable view of the US in a new poll by the Pew Research Center's Global Attitudes Project, while 59 percent described the US as an "enemy" of Pakistan. The Taliban's numbers? About 15 percent view the group favorably (up from 10 percent a year ago). Al Qaeda pips both groups, with 18 percent of Pakistanis viewing the group favorably, up from 9 percent a year ago.
The survey was conducted among 2,000 Pakistanis from April 13-28, 2010.
The findings are likely to add more fuel to the domestic debate over whether American largess is advancing US interests in the region. A vast trove of United States government documents released by the website Wikileaks this week added more evidence for the belief that Pakistan supports the Taliban inside Afghanistan, leaving many Americans wondering if some of the aid to Pakistan isn't ending up in the hands of Taliban operatives trying to kill US soldiers in Afghanistan. Capturing the mood, influential US humorist Jon Stewart said this week: "We have ostensibly put a hit out on ourselves. This is insanity."
---