Kashmir protests: Chief minister summoned to capital after 'Bloody Sunday'
Kashmir protests yesterday, dubbed Bloody Sunday, brought the civilian death toll to 33. Kashmir leader Omar Abdullah was summoned to New Dehli to discuss how to regain control, but he wields little influence with the young protesters.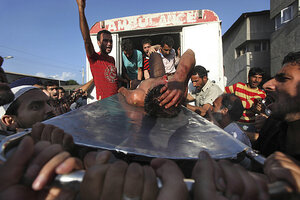 Dar Yasin/AP
Srinagar and New Delhi, India
In what the Indian media are calling Bloody Sunday, 10 people died yesterday in protests across Indian-controlled Kashmir.
Police forces shot and killed at least five during street protests. Another succumbed to wounds after being hit Saturday with a tear gas shell. The remainder died when protesters lit a police camp on fire, triggering a blast from explosive material kept inside. All who died were civilians, taking the total to 33 civilians and zero police killed in the current cycle of protest and deadly crackdown that began June 11.
The protests are part of a popular uprising against Indian rule and heavy-handed police tactics in Kashmir. Both India and Pakistan claim the Himalayan region in its entirety. In the 1990s, Pakistan supported a violent insurgency that was eventually put down by India. But the massive security apparatus – estimated to be as high as 700,000 security forces – remained.
The recent uprising appears to have no links to Pakistan. Instead, it is led by Kashmiri youth ranging from six to 30 who are using a mix of nonviolent defiance of curfews and rock throwing at security forces in a bid to win independence for Kashmir.
Veteran Kashmiri journalist Parvaiz Bukhari in the main city of Srinagar says the past weekend marks a serious escalation in this summer's protest activity.
"This is the first time we've seen so many people defying curfew," says Mr. Bukhari, noting that crowds remained out until 2:30 am in Srinagar and other parts of the valley.
---