India sends more troops to quell Kashmir protests
India has ordered an additional 1,900 paramilitary forces to quell the Kashmir protests in a bid to boost security before addressing political problems.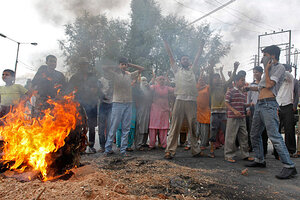 Fayaz Kabli/Reuters
Srinagar and New Delhi, India
At least eight more protesters in Kashmir died in clashes with police Monday and Tuesday, prompting the Indian government to dispatch more forces to the region.
New Delhi ordered 1,900 new central paramilitary forces to quell the Kashmir protests, according to Indian media reports Tuesday. Another 3,200 paramilitary police already in Jammu and Kashmir State will be redeployed to centers of separatist unrest in the Kashmir Valley, reports said.
The state, with a population of 10 million, already has an estimated 700,000 security forces, giving it an extremely high (70:1,000) force to population ratio. Gen. David Petraeus's counterinsurgency manual says experts recommend ratios close to 25:1,000, something the US has never met in Afghanistan.
Many Kashmiris complain bitterly about the heavy security presence, and tensions have risen in the past month as Indian forces have repeatedly fired on rock-throwing youth and peaceful protesters. Four people were killed Tuesday when protesters defied a curfew and marched in Srinigar, according to reports, bringing the death toll to at least 45 over the past seven weeks of street clashes.
Some analysts in New Delhi argue more forces are needed – but more who are trained in nonlethal crowd control.
"What is being done is more and more of the same force is being sent in. What we need is more people being equipped in crowd control without firing," says Ajai Sahni, executive director of the Institute for Conflict Management in New Delhi.
---