Afghanistan war: Will the new Petraeus rules of engagement make troops safer?
General David Petraeus has issued new rules of engagement for the war in Afghanistan. The rules appear to relax restrictions on the use of deadly force, but it's unclear how much meaningful change will happen on the ground.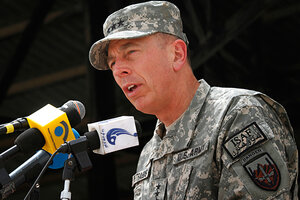 Musadeq Sadeq/AP
Gen. David Petraeus, appointed this June to turn the Afghanistan war around, has just made his first visible impact on how the increasingly deadly conflict is being run.
On Wednesday General Petraeus revised the Afghanistan rules of engagement, which are guidelines for when and how the US and other NATO troops under his command can shoot to kill. At the time of his confirmation that a rethink of the strict rules put in place by his predecessor Gen. Stanley McChrystal – which many combat troops complained put protecting Afghan civilians ahead of protecting them – was likely.
Now, he's issued a change in approach that appears to relax the rules around the edges, while maintaining the priority at the heart of NATO's counterinsurgency, or COIN, strategy in Afghanistan: "Concentrating our efforts on protecting the population," as his new directive, released Wednesday, says. The full directive is classified, according to the International Assistance Force in Afghanistan (ISAF), the mission Petraeus leads. But the excerpts from Petraeus's rules released on the ISAF website place more emphasis on the appropriateness of lethal force than the McChrystal order it replaces.
---