Kashmir protests: Indian police in Kashmir don't get a break
Kashmir protest crackdowns have brought youths to the streets to pelt Indian security forces with rocks. The police, meanwhile, are working 17-hour shifts as they grudgingly grapple with 'a political problem.'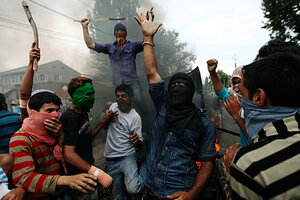 Dar Yasin/AP
Behind "Aidl" and his comrades in the Central Reserve Police Forces (CRPF) stands a home with broken windows and pockmarked plaster from hundreds of pelted stones. He points to it when asked if he's had many stones thrown at him while patrolling this increasingly restive downtown capital of Indian-controlled Kashmir in the disputed Himalayan region.
In the past few months, thousands of boys and young men have taken to pelting Indian security forces and police with rocks, with increasing regularity. They are protesting the stifling of peaceful protest, and decades of Indian control over the region. Meanwhile, Indian police say they can't get a break.
Syed Ali Shah Gilani, a Kashmiri separatist figure with some clout among the teenage rock throwers, appealed Wednesday for protests to remain peaceful.
"You won't find one of us who hasn't been hit by a stone and injured in some way," says Aidl, who was afraid to give his name.
To break up crowds, the paramilitary CRPF wield bamboo sticks, stones, tear gas, and rifles. The police have only a handful of tasers. "At times there are thousands of people coming after just a few of us. So then we have to use [batons] and stones to push them back," he says.
---
Follow Stories Like This
Get the Monitor stories you care about delivered to your inbox.