Pakistan floods displace millions, aid welcome from US or from militants
The US has committed $35 million thus far to battle the worst Pakistan floods in 80 years. Meanwhile, a militant group has some 3,000 volunteers working around the country.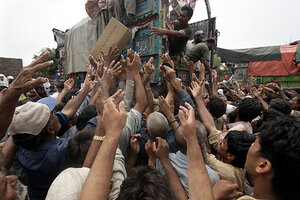 Mohammad Sajjad/AP
As Pakistan struggles with its worst floods in 80 years, much has been made in the West of the influence of hard-line Islamist charities providing relief in a region where the US is trying to win hearts and minds. But in Pakistan, the hope appears simply to be to get as much help to the region as possible – and quickly.
On Friday, the United States announced an additional $25 million for flood relief in Pakistan, taking its total contribution to $35 million. At the same time, Jamaat-ud-Dawa, a group banned by the United Nations Security Council for its links with the militant outfit Lashkar-e-Taiba, believed to be behind the Mumbai (Bombay) attacks in India, has some 3,000 volunteers working around the country and is operating nine medical camps, he said.
The floods have claimed at least 1,600 lives, displaced more than 4 million people, and affected as many as 12 million, as waters spread from the country's militancy-affected northwest through the bread-basket of Punjab. As far as Sindh, home to Karachi, the country's financial hub, river banks are bursting.
---