Afghanistan aid workers' deaths highlights delicate position of Christian-affiliated groups
The killing of 10 aid workers with the International Assistance Mission in Afghanistan underscores the suspicion Christian-affiliated groups can face from some Afghans and government opponents. Such groups point to codes of conduct they follow in the country.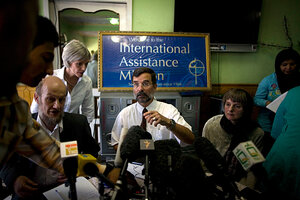 Rodrigo Abd/AP
The murder of an international medical aid team in Afghanistan has driven home the delicate position of Christian-affiliated organizations operating in the country.
While focused on humanitarian work, not religious instruction, such groups sometimes face suspicion by Afghans and manipulation by antigovernment elements.
The 10-member team was gunned down Thursday after providing medical care in remote villages in northeastern Afghanistan. A Taliban spokesman claimed they were killed for spying and trying to convert Muslims. The team was assembled by the International Assistance Mission (IAM), a group that describes itself as an international nonprofit Christian charitable organization.
"Our faith motivates and inspires us – but we do not proselytize," said IAM director Dirk Frans at a press conference in Kabul Monday.
Christian-affiliated aid groups, including IAM, work in Afghanistan under self-imposed international codes of conduct that forbid using aid to further a religious standpoint. This has largely shielded Christian-affiliated groups from being targeted over religion, but both the Taliban and politicians have tried recently to pin the "proselytizer" label on such foreigners.
---