Rescue teams race against Pakistan floods and pirate bandits
Despite warnings of Pakistan floods, many people are now marooned on rooftops or in trees by a surging tide infested with snakes. Bands of boat-borne bandits also threaten citizens.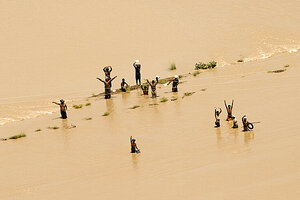 Shakil Adil/AP
The small rubber boat manned by two Pakistani Navy personnel churned through the vast expanse of brown water, passing scattered clumps of treetops and the thatched roofs of a few houses in search of stranded villagers.
The craft was part of an operation to rescue people around Sukkur, the city in Sindh Province where the wall of water unleashed by the worst flooding in Pakistan's history was cresting Tuesday as it moved south down the Indus River toward the Arabian Sea.
Those who didn't heed warnings to evacuate areas near the river, refusing to believe that their homes would be submerged, are now marooned on rooftops or in trees by a surging tide infested with snakes. They have little or no food, are forced to drink the filthy water, and are prey to bands of boat-borne bandits.
The water, which had risen slowly here for a week, gushed up over the weekend as the main body of the torrent swept in from the north, drowning farmlands and jungle as far the eye can see.
The flooding has killed some 1,600 people and affected 14 million others, according to the United Nations, overwhelming the government's ability to cope and submerging some of the most heavily populated areas and fertile agricultural lands. In Sindh alone, some 1.5 million people have been displaced so far, provincial authorities said Tuesday.
---
Follow Stories Like This
Get the Monitor stories you care about delivered to your inbox.