Will slow response to Pakistan flood threaten democracy?
The absence of politicians from the scene of the Pakistan flood -- the country's worst in 80 years -- is raising concerns about the future of democracy in Pakistan.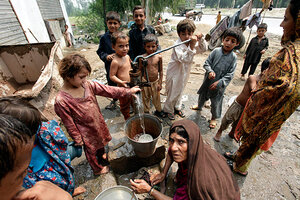 Mohammad Sajjad/AP
At the town's main shelter, housed in the Muzzafargarh Welfare School in southern Punjab, women driven from their homes by the Pakistan flood line up for medicine for their children and plead for food. While doctors dispense treatment, a steady stream of clients is generated by poor sanitation in the latrines at the camp. Flies and mosquitoes buzz around the toilet and kitchen areas as men, women, and children share living space on the floors.
"Our requests for cleaning up the latrines and the floors are going ignored," complains shopkeeper Mazhar Ahmad.
Anger is spreading throughout this flooded region at the local politicians who have been missing from a scene in which Pakistan's Red Crescent, Red Cross branches and even the US Marines have been providing aid. The feeling of abandonment by local politicians is common among Pakistan's poorest, and raises questions about future support democracy in Pakistan. Militant groups who have challenged central government authority have been quick to jump in with promises of aid.
---