Fonseka convicted in Sri Lanka amid delayed inquiry over Tamil Tigers war
Former Sri Lanka Army chief Sarath Fonseka was convicted today of meddling in politics while on duty. Fonseka has said war crimes may have been committed during the civil war with the Tamil Tigers.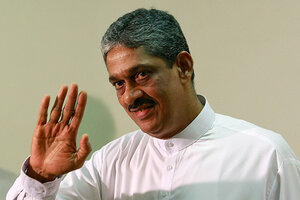 Dinuka Liyanawatte/Reuters/File
A Sri Lanka military court today convicted former Army chief Sarath Fonseka of meddling in politics while on duty, raising concerns that the government is trying to silence a retired general who has hinted that the government may have committed war crimes during its 25-year civil war with the Tamil Tigers.
General Fonseka, a hero to many Sri Lankans for his role in defeating the Tamil rebellion, has said senior government officials may have issued orders that could amount to war crimes. He also charged that the defense secretary, Gotabaya Rajapaksa, who is a brother of President Mahinda Rajapaksa, ordered the execution of Tamil leaders despite promises of protection.
"Certainly one of our concerns is the need for criminal investigation into war crimes by both sides, which have not occurred," says James Ross, the legal and policy director at Human Rights Watch in New York. "And the fact that the government may, in part, be going after him because of these allegations is a concern."
A three-member panel found Fonseka guilty of talking with opposition parliamentarians in October and November 2009 to secure himself a slot on the party ticket for the January presidential election. He retired as chief of defense staff Nov. 16, and two weeks later announced his candidacy.
---