India's Independence Day: Patriotism and the right to fly the flag
India's Independence Day has always been a time when all citizens could fly the flag, but up until recent years, India had some of the world's most restrictive flag laws.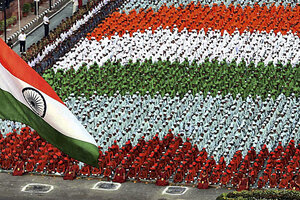 AP
Until recent years, Indian citizens could fly their flag only on two days: Republic Day (Jan. 26) and today's holiday, Independence Day. That changed after an Indian studying in Dallas saw Americans proudly waving Ol' Glory six ways from Sunday.
Naveen Jindal returned to India to take over his father's steel factory. Inspired by the Americans, he started running the tricolor Indian flag up the factory pole every day until a visiting bureaucrat said he was violating the Flag Code. Mr. Jindal headed to court.
In Indian history, Jindal says, "the flag always belonged to the ruler, never to the people. When we got independence, the flag became a government flag" to be flown by officials.
The government argued that if ordinary citizens were allowed to always fly the flag, they might not take proper care of it. But also, says Jindal, these officials wanted to preserve the flag as their own status symbol. As a result, India was missing out on a chance to rally diverse citizens around a still-young nation, he says.
"When a person displays a national flag, then they rise above their political, regional, or caste affiliations," says Jindal, now a Member of Parliament and wealthy steel tycoon. "It is a great unifying factor."

Legal battles over the flag
After decades of legal wrangling, Jindal has fought and won a number of battles: the right for citizens to fly the flag any day (2004), the right to fly the flag at night (2009), and, this February, the right to wear a flag lapel pin in Parliament.
---