Pakistan floods: residents brace for a second wave of problems
Pakistan floods recede but experts warn of a second wave of heavy rains that could spell disaster for those who already remain cut-off from aid now that many bridges have been washed away.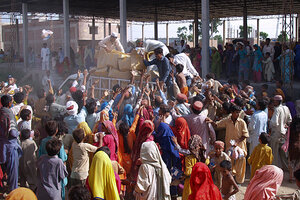 Pervez Masih/AP
As Khushal Khan, a teacher, emerged from a half-hour long helicopter ride to the safety of the Pakistani Khwazakhela airbase, he tuned to shake hands with the American pilot who had brought him across the Swat region's muddy mountain terrain that would have taken days to cover on foot.
He wiped the sweat from his forehead and began the second leg of his journey to Swat's main town of Mingora to fetch food for his family, urging authorities to rebuild the bridge that connects his home village of Matilan to the rest of the region.
"If the roads aren't reopened soon, we will all starve to death," he said.
Flood waters that killed hundreds of residents swept away some 260 bridges in the Swat Valley have begun to recede, and the rain has eased for now. But officials here warn of a catastrophic second wave of problems for the thousands of residents that remain cut-off from aid. If more bridges aren't repaired quickly, say locals and experts, aid could fail to reach the thousands of residents that remain cut-off even as meteorologists predict more heavy rains in the south in the coming weeks.
The village of Matiltan is one of many communities that is hard to access after a bridge connecting it to the main area of Swat, along with some 30 miles of road, gave way during the floods. Khan and other rescued residents from the area say that, so far, 70 bags of food-aid have been dropped in by the United Nations World Food Program: not nearly enough to feed the village's 15,000 residents.
---