Pakistan floods: As international aid lags, US announces increase
Pakistan floods have left much of the country scrambling for food, health care, and shelter. The US is set to increase aid to Pakistan to $150 million Sen. John Kerry announced on Thursday.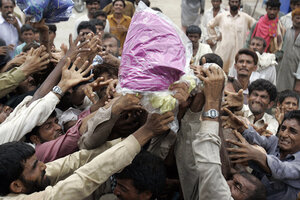 Aaron Favila/AP Photo
Amid United Nations reports of lagging aid for the Pakistan floods, the United States is set to increase aid to Pakistan to $150 million following the worst disaster in the country's history, Sen. John Kerry (D) of Massachusetts announced on Thursday.
Speaking from the Ghazi airforce base where American military aircraft are making deployments into flood-affected territory in the north-west, such as the Swat Valley, he stressed that the US did not wish to see extremists profiting from the disaster. "We don't want additional jihadists, extremists coming out of a crisis," he said.
So far, the US has provided approximately $90 million to support relief efforts which includes funding for the Pakistan National Disaster Management Authority, the UN's emergency relief plan, local and international organizations, according to a statement released by the US embassy.
---