Pakistan floods: How new networks of Pakistanis are mobilizing to help
Pakistan flood aid is coming from new quarters as educated Pakistanis raise funds and distribute aid directly to victims of the flood. Activist networks have sprung up as the middle class has become more prosperous and organized.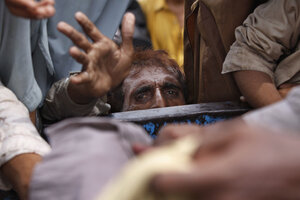 Aaron Favila/AP Photo
Ain-ul-Ghazala, a local Pakistani doctor, says what motivated her to take matters into her own hands came down to what she saw on television. Images of immense misery and destruction brought about by the worst floods in Pakistan in recent memory unfolded before her eyes, and she says she couldn't sit still.
She had noticed hundreds of tents setup on the streets of her hometown, where various groups sought funds and materials. But despite hearing repeated calls for more aid, tales of corruption deterred her from donating to the government or aid organizations, and she didn't want to give her money to Islamist groups like Jamat-ud-Dawa.
"No one trusts the government anymore, so I wanted to see the situation for myself and do what I could to help," she explains. As the effects of the disaster wound into a third week, the gynecologist, who works at a private hospital owned by her husband, decided to set off to the flood-afflicted southern Punjab region along with her three adult daughters and one of their friends, also a female medical doctor.
IN PICTURES: Pakistan floods
Over the course of two days, they distributed, tents and food, while the two doctors checked in on some 200 patients in Kot Addu, near Muzaffargarh. "There were a lot of people suffering," she says. On top of the health problems, "some didn't have anything to wear - they were without any clothes," she says. "We gave iron and calcium supplements to the pregnant women, and ended up seeing a few male patients, too."
---