Pakistan floods: Why aid is so slow compared to Haiti earthquake
Pakistan floods have displaced 4 million people, but aid to the country has been at a trickle compared to other catastrophes, such as the Jan. 12 Haiti earthquake.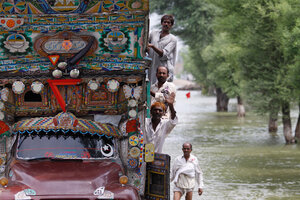 Aaron Favila/AP
Johannesburg, South Africa; and Mexico City
By the third week of the Jan. 12 Haiti earthquake aftermath, the outpouring of individual aid donations was so huge that some aid workers worried the country couldn't absorb them all. That, apparently, won't be a problem in Pakistan, where unusually high rainfall has created floods not seen for a century.
Despite the thousands killed by the Pakistan floods, the estimated 4 million rendered homeless, and the 8 million people who have now become reliant on aid for their very survival, individual aid donations from around the world are coming in at a trickle.
Some blame "donor fatigue," where traditional donors to worthy causes find themselves broke after giving so much to Haiti and other causes. Some blame timing: The Haitian earthquake happened just after the start of the year, when people still had money. And some blame politics, and the lingering ill feelings that some in the West have toward Pakistan in the now-decade long war on terror.
"I do feel this lack of sympathy, or at least a lack of engagement that you would see in other parts of the world," says Asim Qureshi, a British citizen of Pakistani descent, and executive director of a London-based human rights group, Cageprisoners. "This is the result of the vilification, especially of those living in the northern regions (of Pakistan), who are portrayed as monsters, who carry out barbaric acts in the name of jihadist Islam. You had people writing stories about whether if people gave money it might end up in the hands of the Taliban. Now, the only people giving are the Islamist groups, like Jamaat e-Islam, Jamaat ud-Dawa, and Lashkar e-Taiba. So if you wanted people to turn to those kinds of groups, you've given them a reason to do so. You abandon these people and left them to the people you dislike."
---
Follow Stories Like This
Get the Monitor stories you care about delivered to your inbox.