Afghanistan corruption: How one town battled a shoddy school and won
Afghanistan corruption is widespread. Some activists say efforts to help ordinary Afghans resist the powerful may prove more successful than targeting big names.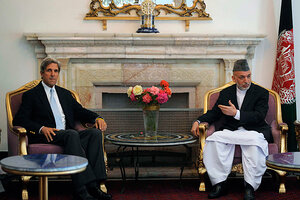 Yuri Cortez/Reuters
This week Afghanistan vowed to combat corruption, after Sen. John Kerry and Gen. David Petraeus turned the screws on Afghan President Hamid Karzai to get serious about the contentious issue.
The US has aimed high, focusing its firepower at both foreign contractors and Afghan leaders. Federal prosecutors are investigating alleged overbilling by the Louis Berger Group, a New Jersey-based contractor handling more than $1 billion in reconstruction contracts in Afghanistan. The US is also backing an Afghan anticorruption task force facing blowback from President Karzai for the targeting of top officials.
While sending the powerful to prison has its benefits, teaching ordinary Afghans how to resist the powerful may prove to be more successful. Proponents of this approach argue that could do more to establish Afghan democracy than much-hyped elections.
A group of Afghans held a successful sit-in after they discovered a contractor using shoddy bricks and cement on a girls' school. The protest came about as part of a quiet effort to help citizens keep officials and businessmen on the straight and narrow.
---