Pakistan accepts flood aid money from rival India
Pakistan's acceptance of a $5 million flood aid donation from India could be a confidence-building measure between the two countries. At home, critics may spin the move as 'a sign of weakness.'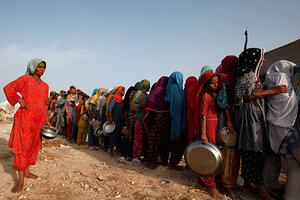 Akhtar Soomro/Reuters
Pakistan has accepted an offer of $5 million of flood aid from neighbor and longtime rival India, in a move that could spark a political backlash at home.
In an interview with Indian news channel NDTV, Pakistani Foreign Minister Shah Mehmood Qureshi described the offer of aid, made last week, as a "very welcome initiative" which the government of Pakistan has agreed to accept, after taking some time to decide.
But it would have been better to say "thanks, but no thanks," according to Liaqat Baloch, secretary general of Pakistan's second-largest religious party, the Jamaat-e-Islami.
"Pakistan has many disputes with India, with reference to Kashmir, and the Indian Army engaging in brutality in occupied Kashmir," he says. "In the past, when Pakistan tried to support India after their natural disasters, India never accepted. Therefore it would be better if [our government] refused the aid with a big thank you."
Al Khidmet foundation, Jamaat-e-Islami's charitable wing, has been one of the most visible aid organizations in the flood-affected areas.
---