Extreme sports in high India: an ultramarathon tests human endurance
A two-day Himalayan ultramarathon run over a 17,700-foot Indian mountain pass – and an unexpected small avalanche – has one finisher, a Briton.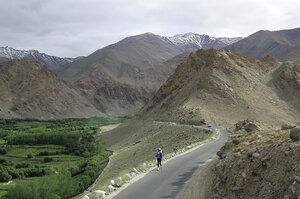 Ben Arnoldy/The Christian Science Monitor
Picture running a marathon, but at such Himalayan heights that it's like running with one lung. Then imagine continuing for the length of another four marathons. That's what Englishman Mark Cockbain accomplished in late July when he became the first and only finisher of an ultramarathon called "La Ultra – The High" in Leh, India. His time: 48 hours, 50 minutes to cover 138 miles.
On the way, he narrowly avoided being swept off a 17,700-foot mountain pass by a small avalanche. Then he passed into a valley of searing heat, and up over a frigid second mountaintop.
"When I got to the top of the second summit, I was really suffering. I could see double. I couldn't breathe properly," says Mr. Cockbain. "Apparently I was veering to the right" – cliffside – "which wasn't good, because it was a long way down."
Whether it's being first to kayak around the Arctic Circle or complete an ever more extreme ultramarathon, explorers today are no longer rolling back the edges of maps but are very much pushing at the boundaries of human possibility.
"We shouldn't be calling this risk-taking. We should be calling this normal, and society we should call 'safety seeking,' " says Eric Brymer, a researcher of extreme sports at the Queensland University of Technology in Australia. "I think a lot of what is going on in society that is negative is because we are not really living what we are capable of living."
---