Pakistan floods: Cash grants for families on the way
The government plans to start handing out cash grants to victims of the Pakistan floods in the coming weeks. Donations from abroad are dwindling as a costly recovery effort begins.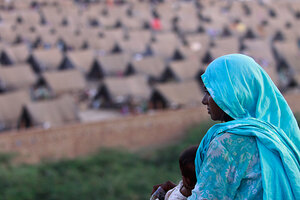 Aaron Favila/AP
Sajad Hussein returned home last week after the Pakistan floods started to recede, walked onto the jumble of thatch and mud that had been his home, and sat down. He says he's been mostly sitting these past five days, waiting for someone to give him something with which to rebuild.
Hundreds of miles upriver near Risalpur, Abdullah Jan grew tired of sitting around in a tent camp so he started making his own cement bricks. After some trial and error, the farmer now has 3,000 bricks baking in the sun, not nearly enough to rebuild his former mud hut.
The difference in approach represents a broad problem across the country that comes down to a key difference between the two men: access to money. Mr. Jan borrowed money from friends. What he collected wasn't enough to buy bricks – now selling at double the price they sold for before the flood – so he found a way to make his own.
Starter funds, like the boost Jan got from his friends, are needed to help Mr. Hussein and hundreds of thousands like him on to their feet again. The Pakistani government plans to start cash grants in the coming weeks. But with the floodwaters receding and international media attention fading, donations from abroad are dwindling just as the country embarks on a costly recovery effort.
Pakistani aid breakdown
Pakistan is planning substantial grants for citizens. Here's the breakdown, according to the Pakistani government:
---