Pakistan's ousted Pervez Musharraf announces return to politics
Pervez Musharraf, Pakistan's former military ruler who left the country amid unrest and legal trouble in 2008, said this week he intends to return home to lead a new political party.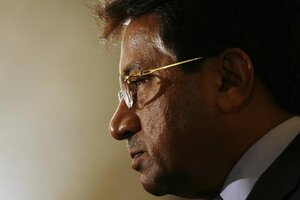 Bobby Yip/Reuters
On Wednesday, dressed in civilian clothes, former Pakistani military ruler Pervez Musharraf announced from Hong Kong that he intends to return home as head of a new political party called the All Pakistan Muslim League. He is reportedly eyeing the posts of prime minister and president.
He says he has a strong following among Pakistan's silent majority: the progressive-minded, economically mobile, urban, and urbane younger sections of society. As proof, he points to his 300,000 Facebook followers mainly aged between 18 and 34. "Therefore, I know that it is the youth who are yearning for change," he said Wednesday.
Already, supporters of Mr. Musharraf are reaching out to people on the street. As they collect funds in his name for survivors of the catastrophic floods that rocked Pakistan last month, they hoist pictures of him in civilian clothes. It's a rather new look for him, but Musharraf has experienced many incarnations: from coup-leader, to self-proclaimed chief executive of Pakistan, to popularly elected president-general, to disgraced president thrown out of power, to a man in self-imposed exile.
Capitalizing on floods fallout
This time, Musharraf plans to start a campaign to join the 2013 elections within the parameters of parliamentary democracy. His plans come at a time when his rival political parties – the ruling Pakistan Peoples' Party and the PML, which rules the country's powerful central Punjab province – face sharp criticism for their handling of recent devastating floods.
---