In Afghan election, corruption colors aims of many female candidates
The 386 women running in Afghanistan's election Saturday have been touted as a clear sign of success. But others say that many of them are merely puppets for rich powerbrokers.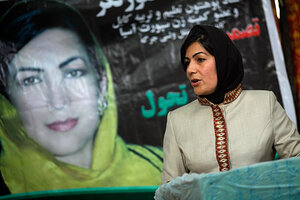 Andrew Biraj/Reuters
In a cynical reminder that Afghan politics is rarely what it seems, activists in Kabul question whether many female candidates running in Saturday's parliamentary elections are actually champions of women's rights.
The record 386 women running for parliament is seen by many as one of the few clear-cut successes of an election campaign that has been marred by violence and fraud. Yet some women's rights campaigners say that many of the female candidates are merely puppets for shadowy figures trying to garner influence in the new Afghan parliament.
"It's quite clear that there are many, many women who are running not because they have interests themselves, but to represent the interests of warlords and power brokers," says Nargis Nehan, director of Equality for Peace and Democracy, an Afghan nongovernmental organization.
"Those being supported by a bank, a warlord, a tribal leader, these are the people able to spend money," adds Wajma Frogh, a member of the Afghan Women's Network, an NGO in Kabul. "I know villagers who have sold their votes [to a female candidate] for $20. People will vote for her. Another very honest women's rights activist is not able to pay $20 a vote. She's not going to make it into parliament."
An age-old rhythm of patronage?
---
Follow Stories Like This
Get the Monitor stories you care about delivered to your inbox.