Ballot-stuffing witnessed amid troubled Afghanistan vote
As Afghans voted Saturday, a reporter in Wardak Province spoke to an election worker about how his team had set out to stuff ballot boxes. The widescale fraud in Wardak may speak to troubles in the broader Afghanistan vote.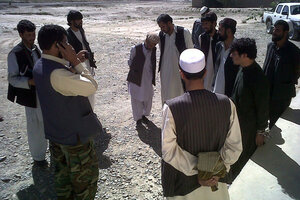 Anand Gopal/The Christian Science Monitor
When campaign aide Qais showed up at a polling center in the troubled province of Wardak Saturday morning, he found that guards would not allow him to enter. When he tried to peer through the windows, he found that workers had erected huge cardboard sheets to block the view.
Inside, election workers were busy stuffing ballots on behalf of a candidate named Hajji Wahedullah Kalimzai. Although only about 20 men had come to vote thus far, hundreds of ballots were being marked in favor of Mr. Kalimzai.
It was a scene repeated throughout the province. The elections in Wardak were marred by widescale fraud, violence, and an extremely low turnout, casting doubt on the legitimacy of the new class of lawmakers that will represent the province.
"There were almost no elections in Wardak," said Ghulam Hassan, a local elder. "The votes were stolen right in front of our eyes."
The turn of events in Wardak likely represents a larger trend in a number of restive areas throughout Afghanistan, where Taliban threats limit the ability of election monitoring teams to visit many polling centers.
Pro-government militia force way into polling center
Instead, candidates rely on campaign aides, like Qais, to watch for irregularities. As election workers were stuffing ballots in a polling center in the Desht-e-Top area of Wardak, where Qais was barred from entering, pro-government militiamen who are part of a community policing initiative – or community guards, as the government prefers they be called – arrived at the scene.
---