Afghanistan election: Why the next parliament won't check Karzai's power
The results of Saturday's Afghanistan election aren't expected for days, but because the parliamentary candidates ran as individuals, not as party members, they are unlikely to unite in opposition to President Hamid Karzai.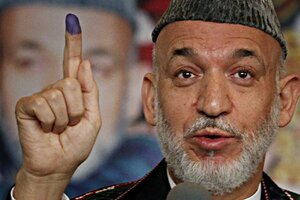 Musadeq Sadeq/AP
Afghanistan's election on Saturday was tarnished by attacks that killed at least 12 people, reports of fraud, and a light turnout. Still, whichever parliamentary candidates end up victorious once results finally trickle in will play a role in the coming scrum for power as international forces draw down over the five-year term ahead.
Specifically, President Hamid Karzai could try to dodge his term limit or step up negotiations with the Taliban in an effort to retain power. Also in the mix will be a decision over long-term basing rights for American troops.
These issues are of intense interest to fractious opposition forces and outside governments alike, many of whom have serious doubts about fully trusting Mr. Karzai's judgment. They are hoping that the next parliament – which won't be sorted out and seated for months – will become a more effective check on Afghanistan's executive branch.
In Pictures: Afghanistan election
But the new parliament is unlikely to be a strong check on Karzai, because the candidates mostly ran as individuals rather than under the banner of parties or the disorganized opposition movement.
"I believe that the next parliament, unfortunately, will be even weaker than the current one," says Sabrina Saqib, a member of Parliament from Kabul. "Because we are all running as individuals, it's very easy to buy MPs, to deal with them, when we are individuals."
---