Asia's next economic tiger? Hint: it's not India or China.
Vietnam is building up its universities in an effort to join economic tigers Taiwan and South Korea. Roadblock: hidebound university practices.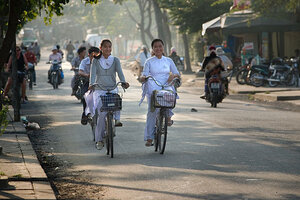 Jon Armstrong/Lonely Planet/Lonely Planet Images/Newscom
Ho Chi Minh City, Vietnam
On a leafy campus on the outskirts of this frenetic city, an experiment is under way. Opened in 2008, the Vietnamese German University (VGU) occupies a temporary, two-story building. This fall it plans to enroll about 220 Vietnamese students, mostly in master's programs taught by visiting German professors.
This modest start represents an ambitious bet by Vietnam on the power of higher education to transform its low-wage economy. By 2020, Vietnam hopes at least one of the handful of schools like VGU will rank among the world's top 200 universities and set higher standards for other institutions.
By investing in higher education, Vietnam hopes to emulate the scientific know-how of Asian economies like Taiwan and South Korea. Since 1990, Vietnam's per capita gross domestic product has risen 10-fold to more than $1,000 on the back of rising exports and large doses of foreign investment.
But it's unclear that simply spending more on education can produce a suitably skilled workforce. Critics say that hidebound university administrators, outdated pedagogy, low pay, and stifling political orthodoxy need fixing first. "Our higher education system is archaic," says Hoang Tuy, a prominent reformer.
---