Aafia Siddiqui, alleged Al Qaeda associate, gets 86-year sentence
Aafia Siddiqui, a Pakistani neurosurgeon who the US says has ties to Al Qaeda members, was sentenced to 86 years in prison for attempted murder today.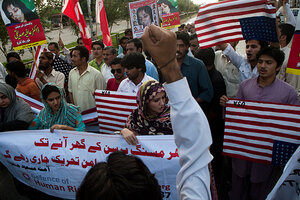 B.K.Bangash/AP
Aafia Siddiqui, a US-educated Pakistani neuroscientist whose lawyers argued is mentally unstable, was sentenced to 86 years in prison in a New York district court for trying to shoot American soldiers in an Afghanistan police station two years ago.
The saga of Ms. Siddiqui, a former student at Brandeis University and the Massachusetts Institute of Technology (MIT), has been closely followed in her home country, where she is widely viewed as innocent.
At the time of her conviction in February on two counts of attempted murder, thousands of protesters took to the streets of Islamabad. Hundreds of Pakistanis have been killed in US drone strikes in the lawless border areas near Afghanistan this year, and the public perception of the United States has turned sharply negative.
The reaction to her sentencing today was more muted, thought it came late in the day Pakistan time.
The events leading to her conviction took place in 2008, when she had been detained near the Afghanistan city of Ghazni. During an attempt to interrogate her by US soldiers, she grabbed an American rifle and opened fire. She hit no one, and was shot and wounded as she attempted to flee.
---