Afghanistan's President Karzai names Taliban outreach group
Afghanistan President Hamid Karzai announced the creation of a council that he hopes will successfully convince members of the Taliban to lay down their arms.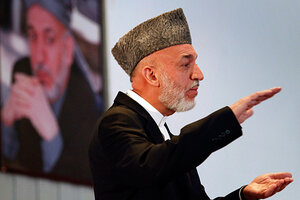 Musadeq Sadeq/AP
Amid record levels of violence in Afghanistan, President Hamid Karzai announced the team of people he believes are key to bringing the Taliban to the table.
On Tuesday, Mr. Karzai's office made public the list of people who would compose the High Peace Council designed to engage combatants who oppose his government. The creation of the council was endorsed by tribal leaders at the Peace Jirga in June.
The peace group came on a day when Karzai broke down in tears while giving a speech following the assassination of a government official in Ghazni, and at which he urged his Taliban "brothers" to lay down their arms. The council, which brings many long-time enemies of the Taliban to the peace table, is supposed to take steps to make that happen.
But the group is fragmented and without anyone who holds clout with the Taliban. Few expect the council will produce meaningful results. "Many of these men are unlikely peacemakers," wrote Rachel Reid, a Human Rights Watch analyst in an e-mail to journalists. "There are too many names here that Afghans will associate with war crimes, warlordism and corruption."
---
Follow Stories Like This
Get the Monitor stories you care about delivered to your inbox.