Biggest hurdle to Pakistan flood recovery: Wealthy landowners
The absence Pakistan's landowners, who use their money and influence to gain seats in parliament, highlights deep social divisions going back to independence.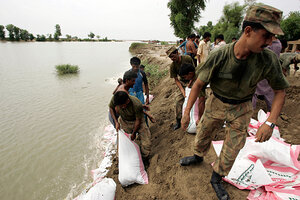 Shakil Adil/AP
Like millions of other farmers across Pakistan, Abdur Razzaq of district Kot Addu lost the majority of his crops and livestock to the floodwaters that swept through the country in August. He estimates his financial loss this year around $3,000 – a huge blow given the poverty in rural Pakistan.
But his problems are compounded by the $2,000 in rent he owes to his feudal landlord, who, he says, is not inclined to forgive.
"If I ask him to defer payment, I would only have to pay back with greater interest," he says. Instead, Mr. Razzaq says he will sell his animals at a discount and attempt to start fresh.
Those who refuse to pay – or can't – are forced out of their homes by armed gangs sent by the landlord's family, and sometimes set upon by dogs.
Razzaq's dilemma strikes at the heart of a phenomenon that is not only creating a hurdle in the post-flood rehabilitation phase, but has stunted Pakistan's political and economic development since the country gained independence from Britain in 1947: a deep division between classes, leading to abuse of power.
According to leading Pakistani historian Mubarak Ali, author of "Feudalism," the problem lies with Pakistan's two largest political parties, the ruling Pakistan People's Party and the Nawaz Sharif's Pakistan Muslim League (N), whose representatives in southern Punjab and Sindh province consist almost exclusively of wealthy landowners.
---