Tearful Karzai warns of youth exodus from Afghanistan. Here's why.
A young judge's woes symbolize a rising generation's dismay over widespread corruption – and their commitment to building Afghanistan.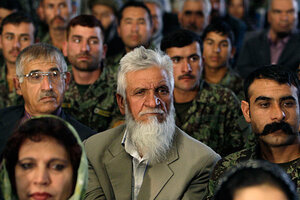 Omar Sobhani/Reuters
Afghan President Hamid Karzai's tearful speech on Tuesday, in which he expressed concern over an exodus of youths fleeing the country's violence, overlooked what young professionals here say is another major factor causing the next generation to give up on their homeland.
Widespread corruption, for which Mr. Karzai's government is notorious, is also undermining the desire of educated 20-somethings to invest in their country instead of looking abroad for a brighter future.
Mr. Karzai, during a nationally televised address at a Kabul high school, focused on how violence is preventing school-aged youths from getting an education. "Our sons cannot go to school because of bombs and suicide attacks," he said. Referring to his 4-year-old son, he added: "God forbid Mirwais should be forced to leave Afghanistan."
But for Afghanistan's young minds who have already shown an unprecedented interest in rebuilding a democratic nation, violence alone is not the problem. Interviews here with young Afghans working as public servants and running for government office reveal that a crash course in the hard-knocks school of Afghan corruption has been a wake-up call to many.
"What I was thinking in university was different from what I found in practice," says 25-year-old Qazi Ahmadi, the nation's youngest judge.
A new political generation
---