Afghanistan opium crop blight sends drug prices soaring
The Afghanistan opium harvest dropped 48 percent this year, the United Nations announced. But analysts say the resulting higher prices could draw more farmers into the business.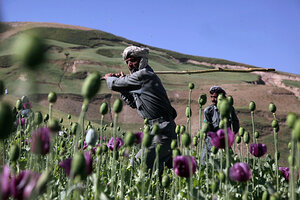 Julie Jacobson/AP/File
A crop disease in Afghanistan took a major toll on the country's opium harvest this year, reducing output by 48 percent from last year, the United Nations Office on Drug and Crimes said in a report released Thursday.
The blight, however, is expected to have little affect on the Taliban, for whom opium is an important source of funding. Those hit hardest will likely be the poppy farmers themselves, who rely on opium revenue for most of their cash spending. Opium is the narcotic latex sap of a variety of poppy flower and can also be processed into heroin and other drugs.
"The poppy income is not the single, major income or revenue source for the Taliban. It's different from region to region, but I think it does not hit them particularly hard if the crop goes down," says Thomas Ruttig, codirector of the Afghanistan Analysts Network in Kabul.
For years the Taliban has depended on diverse revenue streams that include informal taxation and protection rackets. Mr. Ruttig says those sources of revenue are probably more important to the organization than opium.
Additionally, opium has a long shelf life and the Taliban is likely to maintain reserves for times when there is a poor yield, such as this season. Afghan opium production outpaced global demand in both 2008 and 2009.
Still, the International Security Assistance Force (ISAF) and NATO troops who have been working to curb the cultivation and production of narcotics in Afghanistan are hoping that the blight may take at least a small bite out of the insurgency's operational ability.
---