North Korea's new dawn with Kim Jong-un
An heir to the North Korean dictatorship is anointed, and begins his rise. Where will Kim Jong-un lead his nation?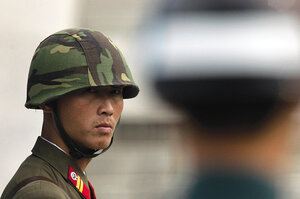 Reuters/KCNA
In the space of a few hours, North Korea opened an entirely new chapter in the turbulent history of the Korean Peninsula.
It wasn't that the regime had changed, or that policy had changed. Rather, it was that change was inevitable, eventually, and a new leader was on the tortuous journey to the top.
The new leader was a young man named Kim Jong-un, the choice of his father, 'Dear Leader' Kim Jong-il, who has survived longer than most people thought likely after a serious illness.
It was those intimations of mortality that added urgency to selecting an heir and to seeing that he gets the proper training to take over the government and country in a time of severe food shortages, seasonal flooding, and nonstop confrontation with North Korea's historic foes, South Korea and the United States.
The easy part was the anointment of Kim Jong-un – Swiss-educated, reportedly a fan of US pro basketball, the youngest of Kim Jong-il's three sons – first as a general and then as vice chairman of the military commission of the Workers' Party at its annual conference on Sept. 28. Now he's got to learn the job – and chart his course.
Now what?
---