Pakistan keeps Khyber Pass closed as US strikes drone on
Pakistan said it will keep the Khyber Pass - a crucial supply line for the US war effort in Afghanistan - closed because of security concerns, as a US drone strike pounded alleged militants inside Pakistan.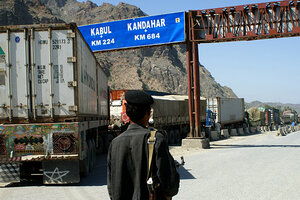 Qazi Rauf/AP
A US drone strike in Pakistan's lawless North Waziristan may have killed eight German Muslims who allegedly hoped to return to Europe some day and murder civilians, but the real danger continues to lie in Pakistan's closure of the Khyber Pass – a key supply route for NATO forces in Afghanistan.
That's not because US and NATO troops are going to run out of food or bullets soon – analysts and politicians are united in predicting that Pakistan will reopen the Torkham border crossing long before that becomes an issue. And it's not because the Taliban in Pakistan have shown they're capable of attacking convoys, with at least three drivers killed and 30 trucks destroyed since the border crossing was closed last week. Convoy attacks in Pakistan are nothing new – in 2008, around 500 trucks and containers were destroyed by militants, both on the roads and at container terminals in Peshawar, near Torkham.
---