Afghan peace council opens as Afghans assess nine years of war
Nine years after US-led airstrikes on Afghanistan began, President Karzai on Thursday inaugurated a new peace council that is tasked with reconciling with the Taliban and other insurgents. Kabul residents say they see no end in sight to the war.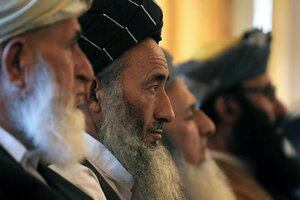 Shah Marai/AFP Photo/Newscom
Nine years ago today, just weeks after the Sept. 11, 2001, attacks on the World Trade Center, the United States led an aerial bombardment on Afghanistan, beginning the longest war in US history and unleashing events that would topple a regime and change the direction of the nation.
But this week, even as the Karzai government began secret talks with the Taliban and other antigovernment forces, after two presidential elections and billions of US investment in fighting and reconstruction, most Afghans see no end to the war. Amid ongoing violence, it remains difficult for most people here to reconcile what this anniversary means for their country.
"The Afghan civilians used to think of this anniversary as a day that they got their freedom from a cruel government. But day by day, as the Taliban has gotten more control in the country, the people have stopped believing that," says Mohammad Saber Fahim, an Afghan journalist.
Initially happy about the bombardment
Like most Afghans, Abdul Wasy still remembers where he was when he heard that the Americans had started bombing his country nine years ago. He was nine years old, and rather than get the news over the radio, he found out about the strikes when two bombs landed close enough to his home that, he says, they shook the earth.
When he realized he would be safe, he says that he and his family were elated. "We thought that we were released from the dark regime of the Taliban," he says.
---