In India, even Indians can be 'foreigners'
Mumbai and other Indian cities enact labor restrictions to stem an influx of poor migrant workers.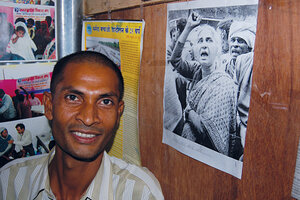 Taylor Barnes
Akhilesh Rao has found the closest thing he can to a stable job and a home – deep inside the monsoon-soaked mud lanes of one of India's largest slums. But it has been a long and arduous journey. It's taken him almost 18 years.
Like the 500 migrants who arrive in India's "city of dreams" each day, Mr. Rao, from the northern state of Uttar Pradesh, came here in search of a better life. But he faced routine discrimination because of his "outsider" status.
On his last job – loading rolls of textiles onto trucks – he recalls how police would stop him as he left work at night and ask him to show his ID. They threatened to throw him in jail for being a migrant. He had no papers to prove he had lived here for nearly two decades and paid as much as 2000 rupees (US$40) in bribes each time.
Take the Monitor quiz: Could you pass a US citizenship test?
Since then, Rao has been able to get a driver's license – at more than double the usual price – and establish a meager life. "Now we are able to solve our problems on our own because we know the laws," says Rao, an ebullient man who is as thin as a bamboo shoot.
Rao's tale is a reminder that anti-outsider sentiment today isn't confined to just those journeying across borders to find new homelands. It is also often aimed at those moving within countries.
And the potential for such tension is huge. When they hear the word "migration," most people think of masses of humanity moving from poor nations to rich ones. But the fact is, the overwhelming majority of people who move in the world do so within their own borders.
---