Thousands fled India-controlled Kashmir. Are they better off in Pakistan?
Some 35,000 Kashmiris fled from Indian-controlled Kashmir during the 1990s to settle in Pakistan, a country that has not yet granted citizenship to up to 40 percent of the migrants.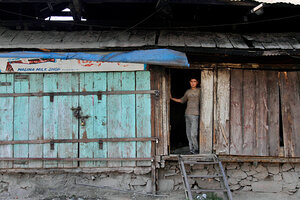 Mukhtar Khan/AP
Muzaffarabad, Azad Jammu Kashmir
While an insurgency raged against Indian authorities in the early 1990s, thousands of young men, including Rana Altaf's father and uncle, were arrested by authorities, beaten, and tortured. Fearing for their lives, they eventually crossed the line of control that separates Indian-controlled Kashmir from the Pakistani side. They trekked on foot for three days over treacherous snowy terrain in a group of 60 people from neighboring families, avoiding Indian landmines.
"We knew if we turned back we faced certain death. They would have shot us," recalls Rana's father, Abdul Rasheed. Rasheed says he was arrested three times and interrogated by a man he remembers as "Major Sharma" who threatened to have him killed if he did not give up the names of militants hiding in his village. Rasheed insists he had nothing to do with the armed struggle in which an estimated 84,000 civilians lost their lives.
Seventeen years later, like many who made similar treks, the family lives in a make-shift shanty on the outskirts of Muzaffarabad, the capital of Pakistan administered Kashmir. Though they count themselves lucky to be alive, the family's dream of a welcoming Pakistan was short lived.
"We're grateful to Pakistan but we're always made to feel different. The people here don't like us, don't mix with us, and it's hard to get a job," says Rana who has not yet received Pakistani citizenship or an ID card, and is therefore not entitled to attend college or legally seek employment. Rana's mother, Sobia, complains that the family struggles for food each month as the men find informal work only occasionally.
---