Under pressure from floods and courts, Pakistan's Zardari likely to keep his job
Ongoing confrontation between Pakistan's President Zardari and the high court has raised concerns about political instability, but some analysts say the lack of appetite for change means the government is likely to finish its term.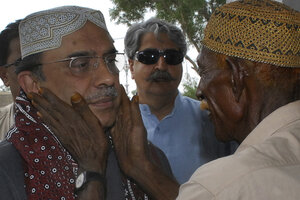 Akram Shahid/Reuters
A longstanding confrontation between Pakistan's civilian government and highest court over issues of corruption has raised concerns about a potential toppling of President Asif Ali Zardari's government. But the turmoil may not be what it seems.
The rhetoric on both sides has sharpened in a recent weeks over an ongoing effort to root out widely perceived corruption among politicians and the government.
Last week, Mr. Zardari told supporters he is "not afraid of jail mosquitoes" – a reference to the 13 years he spent behind bars in the 1990s and early 2000s as husband of then-opposition leader Benazir Bhutto, despite never having been convicted on corruption charges.
The Supreme Court, led by the popular Chief Justice Iftikhar Muhammad Chaudhry, meanwhile, continues to loudly chide the government for not implementing its recommendations to fire high-profile ministers.
The so-called clash between the institutions has dominated headlines here and provided fodder for the country's high-octane nightly news. It also has fueled gossip of imminent regime change among Islamabad's elite. But for all the apparent drama, and despite the recent news that the Muttahida Qaumi Movement (MQM) threatened to pull out of the coalition government of President Zardari after some 33 people were killed in politically motivated attacks over the weekend, some analysts here believe that, paradoxically, the country may be experiencing a rare period of political stability.
---