CIA admits 'missteps' in handling double agent in Afghanistan
The Chapman military base incident, where a double agent killed seven CIA agents, calls into question the wisdom of turning the Afghan conflict over to the CIA.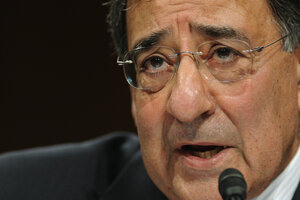 Susan Walsh/AP/File
The CIA admitted "missteps" in the handling of a double-agent who killed seven CIA employees in Afghanistan last December, an incident that has become central in the debate over the Afghan war.
The Jordanian double-agent walked on to the Chapman US military base near the Pakistan border and blew himself up as he was about to be frisked. He had access to Al Qaeda circles in Pakistan, making him potentially valuable to the agency's covert drone war.
As American disaffection with the Afghan war grows, critics are calling for a scaled-down military presence that would shift terrorist-hunting duties to special forces, intelligence assets, and drones. But the Chapman incident highlights how reliant intelligence gathering is on the current military apparatus, calling into question the effectiveness of turning the Afghan conflict over to the spooks.
Biden's push
Vice President Joe Biden unsuccessfully pushed for this scaled-back approach during the administration's war deliberations last year that led to a surge of 30,000 more troops and expanded nation-building efforts.
But as the war drags on, critics of the strategy continue to give voice to the "Biden option." In August, the Afghanistan Study Group – made up of academics and former military men – released a report called "A new way forward: Rethinking US strategy in Afghanistan."
---