Want to know how the war in Afghanistan is going? Watch Kandahar.
Progress on firming up security in Afghanistan depends on how US and Afghan troops secure Kandahar province – the nucleus of Taliban resistance.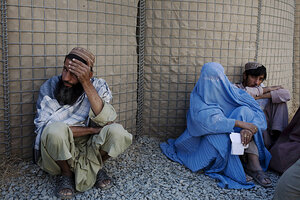 Rodrigo Abd/AP
Kandahar City, Afghanistan
For the past decade, the Taliban has held firm control over the small farming village of Malajat, located on the green flatland along the eastern outskirts of Kandahar City. NATO forces and Afghan police refused to enter the area, knowing any attempt to clear the town of military threats would be met with fierce resistance.
But last summer, as part of a United States and Afghan effort to firm up security in the Kandahar province – Afghanistan's second largest province and the nucleus of Taliban resistance – a large contingent of coalition troops entered and removed improvised explosive devices in Malajat. Insurgents were killed or forced underground. As a result, children can be seen walking to and from school, where it was once unthinkable.
The Malajat offensive is part of a larger coalition effort to win control of Kandahar from the Taliban. Combat operations are ongoing in the Arghandab, Zhari, and Panjwai districts just outside of Kandahar City. Operations similar to the Malajat offensive are taking place to secure the city from insurgents. If the Kandahar offensive is successful, coalition forces will control the last and largest Taliban stronghold. If unsuccessful, the failure to win Kandahar could set back the faltering war effort.
---