Why Karzai readily admits receiving bags of Iranian cash
Afghan President Hamid Karzai says he accepts bags of cash from Iran. What do the Iranians want in return?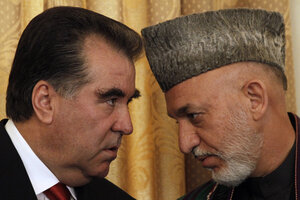 Allauddin Khan/AP Photo
Afghan President Hamid Karzai admitted in a press conference Monday that his office accepts "bags of money" from the Iranian government.
That bald acknowledgment brings out into the open two uncomfortable facts confronting the US plan to build a modern democracy in Afghanistan. Just as in Iraq, Iran is successfully buying influence with Afghan leaders. And Mr. Karzai – like many members of Afghanistan's political class – sees bags of cash as a perfectly legitimate tool of statecraft.
Iran's efforts may extend beyond Karzai's palace. Members of Parliament say other politicians are taking Iranian money. And recent media reports claim that the Iranians are paying the Taliban to kill US soldiers.
What does Iran want for its bags of cash? First and foremost, Iran wants pressure put on international forces to leave its doorstep.
Update: Karzai's acknowledgement of bags of Iranian cash: Why now?
"The Iranians are happy with the Karzai regime being established in Afghanistan – in this way, the US and Iran are aligned. But when it comes to international forces in Afghanistan, the Iranians are quite unhappy about this," says Waliullah Rahmani, head of the Kabul Center for Strategic Studies.
The US invasions of Iraq and Afghanistan put American forces on the ground on either side of Iran. In Afghanistan, US forces at Shindand Airbase are less than 75 miles from the Iranian border.
Yankees go home
---