Afghan convoy security undermines Afghan security
Millions are paid to Afghan private security companies to deliver food and ammunition to NATO troops. But the companies are accused of human rights abuses and paying the Taliban.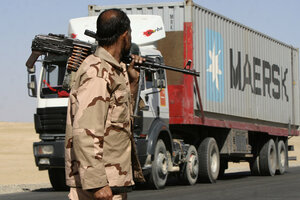 Rahmatullah Naikzad/AP Photo
Pul-i-Charkhi, Aghanistan
In a wood-paneled office here in the dusty fringes of Kabul, Hajji Shirin Dil feverishly works the phones. He shouts orders into one receiver as he dials another phone, while aides wait patiently to speak to him.
He could be Wall Street day trader, if not for the sleepy gunmen by his side. Instead, Mr. Dil owns a profitable logistics company and is cutting deals with various warlords, whose private security companies protect his trucks carrying vital provisions to the foreign troops.
But a recent pledge by Afghan President Hamid Karzai to ban security companies threatens to grind this business to a halt, and in the process calls attention to the foreign forces' reliance on a complex network of private companies and local strongmen to protect their supply lines.
"I can't move anything without protection," says Dil. "The Taliban can stop my trucks and the foreigners won't get supplies."
The move highlights the paradoxical position of foreign forces here. Meant to be building democratic institutions, they nevertheless pay millions to strongmen and private security companies that undermine those institutions. Why? It's the way they protect their supply lines and their ability to fight against the Taliban.
But the arrangements sometimes benefit the insurgents. Some private security companies pay protection money to the Taliban, while the heavy-handed tactics of others generates public anger and fresh recruits for the group. Afghan officials say this is why Karzai ordered a ban on private security companies. Even some trucking companies back the move, hoping that the Afghan government will provide regular, reliable security.
---