New US approach to Afghanistan insurgency: Vindication for Pakistan?
Afghanistan and the US are showing signs of a new approach to insurgents in Afghanistan. The approach may ultimately allow Pakistan more influence in Afghanistan as the US prepares to leave next year.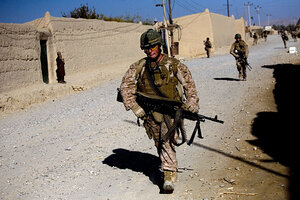 Dusan Vranic/AP
A private meeting recently between a Taliban figure with ties to the militant Haqqani network and Afghan President Hamid Karzai may indicate a new willingness to engage with groups previously thought of as "too extreme," ultimately allowing Pakistan more room to influence events in Afghanistan as the US prepares to leave next year.
Maulvi Abdul Kabir, an ex-Taliban governor close to the Haqqani network, which is widely believed to be the US-led coalition's most fierce enemy, met with President Hamid Karzai just over two weeks ago, the Associated Press reported, citing an unidentified former Afghan official. The meeting was a precursor to ongoing talks with a 70-member council tasked with bringing a close to the Afghanistan insurgency.
According to Brigadier (ret.) Mehmood Shah, a former security chief of Pakistan's Federally Administered Tribal Areas (FATA), Kabir, who was arrested by Pakistani authorities in February, was likely flown into Kabul with Pakistan's approval and backing.
---