Burma (Myanmar) holds first vote in 20 years
Burma's voters went to the polls today as opposition leaders complain of widespread electoral irregularities, including intimidation of voters by government officials.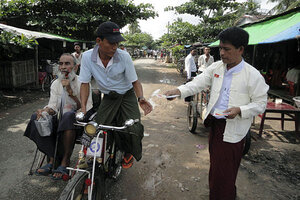 Khin Maung Win/AP
Voters in military-ruled Burma (Myanmar) went to the polls Sunday in a rare election that has been widely criticized as rigged in favor of pro-junta politicians.
Unofficial results of the first vote since 1990 are expected in the next day or two, setting the stage for what could be months of backroom maneuvers to form a new civilian government, the first in decades.
Turnout appeared to be low in many areas as apathetic voters stayed away, according to local observers and overseas Burmese media.
The former political party of Aung San Suu Kyi – the imprisoned democracy icon who won in a landslide in 1990 but was prevented from ruling and has been under off-and-on house arrest ever since – had urged a national boycott to protest the unfair rules. But some opposition candidates and informal monitors claimed that turnout, which has only symbolic importance, may have been around 60 percent, despite the boycott campaign.
"People are going through the motions while feeling that the outcome is probably predictable," Andrew Heyn, Britain's ambassador to Burma, told foreign correspondents in Thailand.
Media ban
Virtually all news media were barred from covering the election and a Japanese reporter was reportedly arrested after slipping into a border town from Thailand. International election monitors were also turned away.
---