How ACORN could intrude on President Obama's India visit
Activists tied to ACORN International, an offshoot of the US group that caused President Obama so much trouble in the 2008 election, will protest outside Obama's speech to India's Parliament Monday.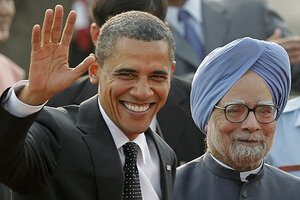 Gurinder Osan/AP
On his trip to India's commercial capital, Mumbai (Bombay), President Obama addressed entrepreneurs, university students, and Asia's richest man, who just built himself a 27-story house.

But he stayed far away from Dharavi, one of Asia's largest slums, which was made famous worldwide by the hit 2008 movie "Slumdog Millionaire."
Inside the slum lies an impolitic connection from Obama's past that – like Shakespeare's Falstaff – could have helped balance the president's view into the lives of citizens here.
The ACORN Foundation India works to organize the slum's trash collectors and sorters known as "ragpickers." The group was set up separately by the founder of the ACORN community organization that Obama once worked with in America. Opponents assailed Obama's ties to ACORN after some of its workers falsified voter registrations during the 2008 presidential contest.
In India, the model does not involve widespread voter registration of the poor – partly because groups like the ragpickers are disenfranchised in the world's largest democracy. Many of them are migrants or homeless who lack the proof of residence papers needed to vote, says Vinod Shetty, the Mumbai head of the ACORN India Foundation.
---