Amid Burma (Myanmar) election, China-built dam highlights plight of ethnic minorities
Ethnic minorities are grappling with a rush by outsiders to exploit their natural resources that is stirring tensions amid the first election in Burma (Myanmar) in two decades.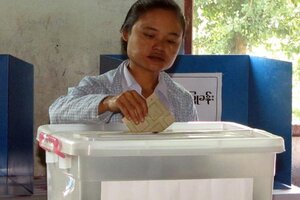 STR/EyePress/Newscom
A pro-junta party appears set to win Sunday's multiparty election in Burma (Myanmar) which was fraught with irregularities and omissions.
For the country's ethnic minorities, the stakes are high. As well as seeking greater freedoms under a new Constitution, many are also grappling with a rush by outsiders to exploit their natural resources, a move which is stirring tensions.
In this riverside community of ethnic Kachins, April began with a bang: a string of mysterious predawn explosions near the site of a giant Chinese-financed dam that is under construction. Authorities rolled up the usual suspects – disgruntled locals, rebel sympathizers – but later released them without charges. Security was tightened on access roads to the dam.
Then came the gold miners. Equipped with pumps and drills, and armed with permits from the military and a local militia group, they began digging up riverbanks and rice fields, and dumping cyanide-laced rock into the river. The aim is to drive locals out, so that the dam builders can proceed unhindered, say villagers. On a wooden house opposite a redbrick Catholic church, a handwritten sign reads, "Protect Us, Mary."
The Myitsone dam is one of seven planned on tributaries of the mighty Irrawaddy River as it winds through the homeland of Burma's Kachin minority. It highlights the accelerating grab for natural resources by Burma's neighbors, defying the wishes of local populations who rarely see the benefits of such projects. Many are ethnic minorities whose rights have been trampled by the ruling junta, which held a rare election on Nov. 7.
RELATED STORY: Burma (Myanmar) holds first vote in 20 years
---