Obama presses India to become global 'champion' of democracy
Obama says India should have a permanent seat on the UN Security Council, but needs to use its growing global clout to boost democratic institutions.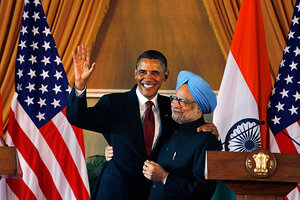 Saurabh Das/AP
As his trip to India winds down this week, President Obama offered to welcome India as a permanent member of the United Nations but suggested India needed to use its power globally to champion democratic institutions, not sovereignty for poor nations.
"I look forward to a reformed United Nations Security Council that includes India as a permanent member," Mr. Obama said to a joint session of India's Parliament Monday, drawing applause from the MPs. But, "with increased power comes increased responsibility."
The US has previously said it supports UN reform, but shied away from naming India as a candidate for permanent UN fixture. Part of that was due to the long line of American allies who are vying for permanent UN seats, including Germany and Japan. But it also reflected US wariness with the role India has traditionally played as a champion for Third World states that have felt hectored and exploited by international rules set up mostly by rich nations.
"For so long [Indians] have been knocking at the door of the great power club and finally they are on the threshold of the doorway, and now they don't know what is involved," says Sumit Ganguly, an Indian-American regional expert on sabbatical in New Delhi. "There are certain club rules and certain norms and expectations that that club has."
---
Follow Stories Like This
Get the Monitor stories you care about delivered to your inbox.