Obama trip welcomes India to high table of global influence
President Obama left India with reassurances of his strong support for a 'strategic partnership' – as well as strong words about his commitment to free trade.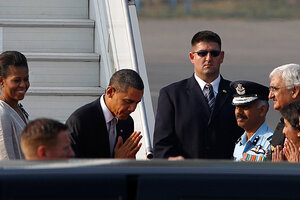 Saurabh Das/AP
President Obama left India Thursday having won over the country's leadership with a series of small deals, excellent stage management, and a symbolically significant welcome to the high table of global decisionmaking.
In return, he got few significant commitments from the Indian government but managed to accomplish domestically significant tasks, thanks to the business community. He avoided criticisms at home over outsourcing by tallying 54,000 new jobs from Indo-US business deals, and he mended fences with America's business community with a full-throated defense of free trade.
For the Indians, the sum was more than its parts: Obama dispelled fears here that he would go wobbly on key planks of the "strategic partnership" that his predecessor, President Bush, had struck with India.
"The most important thing was to keep momentum going under Bush," says C. Raja Mohan, an Indian strategic analyst. "After Obama's election, we had a lot of concerns."
---
Follow Stories Like This
Get the Monitor stories you care about delivered to your inbox.