NATO reads weakness in Taliban leader Mullah Omar's annual Eid statement
Taliban leader Mullah Mohammed Omar denied reports of peace talks with the Afghanistan government, but military officials also saw signs of financial woes in his call for funding from the worldwide Muslim community.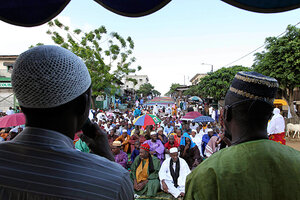 Luc Gnago/Reuters
Taliban leader Mullah Mohammed Omar has issued his annual statement for the Muslim holiday of Eid al-Adha, touching on many points that will likely be debated by international and Afghanistan leaders at the NATO summit in Lisbon starting Friday.
International intelligence officials have interpreted Mullah Omar's latest remarks as further indication that the Taliban are struggling with financial woes and losing the propaganda war. Independent analysts, however, question the importance of his latest statement, seeing it as little more than the usual Taliban message.
The group's supreme leader has traditionally issued two statements a year – one on each of the two main Muslim holidays, Eid al-Fitr and Eid al-Adha. In the statement issued Monday on the group's website, Voice of Jihad, he repeated familiar refrains calling for a "war of attrition" against foreign forces and making derisive remarks about corruption within the Afghan government.
---