Putin on the prowl to save world's endangered tigers
Representatives of 13 countries are meeting in Russia to outline plans to double the wild tiger population, currently as low as 3,200.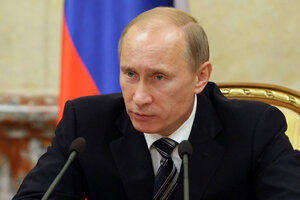 Alexei Nikolsky/RIA Novosti/Pool/Reuters
For centuries, villagers living in Asia's forests, mountains and icy tundra have learned to fear and respect the mighty tiger. But rapid economic growth and modernization has turned the tables on the tiger, of which as few as 3,200 remain in the wild, mostly in India, Russia, and Indonesia.
This weekend, representatives of 13 countries will gather in St. Petersburg, Russia, to pledge support for the tiger, a rare example of a summit on behalf of a single species. The meeting will be hosted by Russian Prime Minister Vladimir Putin and has been in the works for two years.
Countries will outline plans to double the wild tiger population by 2022, the year of the tiger in China, which is also the largest market for tiger skins and body parts, according to researchers. Tigers once roamed much of Asia, but are virtually extinct in some countries due to poaching and forest clearance.
But, as with Afghanistan, the tiger summit is fraught with deep divisions over how to turn around an increasingly dire situation. Some conservationists are skeptical that the meeting will yield much. Others argue that it will attract political support to a broad-based conservation effort that requires a sustained focus to succeed.
---