Aasia Bibi, Pakistani Christian, will get clemency or pardon: presidential aide
An aide to Pakistan President Zardari told the Monitor that Aasia Bibi, a Pakistani Christian who has been in jail on blasphemy charges, will be granted a pardon or clemency. She was to be executed Nov. 8.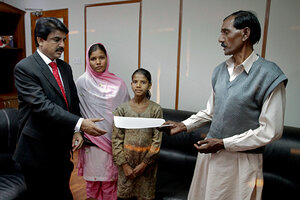 Anjum Naveed/AP
A Pakistani Christian woman accused of blasphemy will be granted a presidential pardon or clemency, an aide to President Asif Ali Zardari told the Monitor on Wednesday.
Aasia Bibi, a 45 year-old mother of five who has spent a year-and-a-half in jail on charges of insulting the prophet Muhammad and the Quran, was due to be executed by hanging on Nov. 8 in a case that has garnered worldwide attention and drawn attention to Pakistan's blasphemy laws, which critics say are misused to persecute minorities.
In the clearest indication yet of how the Pakistani government intends to act, presidential spokesman Farahnaz Ispahani told the Monitor: "Pakistan is a nation of many faiths and religions, and all Pakistanis, no matter what their religion, are equal under the law.
"President Zardari has followed the case of Asia Bibi closely, and will take appropriate action, if necessary, to issue a pardon or grant clemency to ensure that Aasia Bibi is neither incarcerated or harmed. Pakistan remains committed to protecting its religious minorities."
The statement follows a public appeal by the governor of Punjab, Salman Taseer, who said he would petition the president to seek Mrs. Bibi's release, as well as Pakistan's minister for minority affairs, Shahbaz Bhatti, who has investigated the alleged incident of blasphemy and found Bibi innocent.
---