Thai court ruling allows Prime Minister Abhisit to retain power
The Constitutional Court dropped a court case against Thai Prime Minister Abhisit Vejjajiva's Democrat Party because it was filed incorrectly.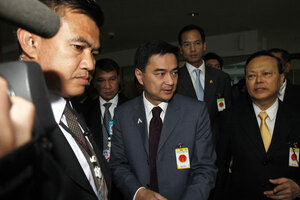 Chaiwat Subprasom/Reuters
A Thai court has acquitted the country's ruling Democrat Party of electoral fraud, ending months of speculation over the fate of a squabbling six-party coalition led by Prime Minister Abhisit Vejjajiva, who faced a possible ban from politics if the party was found guilty.
The Constitutional Court ruled 4 to 2 that the case against the Democrat Party was unlawful because it was filed incorrectly. Mr. Abhisit's party still faces a second charge of accepting an illegal corporate donation. But legal experts have said that the second charge may be hamstrung by a lack of documentation.
Abhisit, who took power two years ago amid chaotic protests after his two predecessors were removed by controversial court rulings, said Thailand must accept the judicial process. In an apparent reference to the protesters who took over parts of the capital earlier this year, he added that his government was "prepared to handle whatever will happen."
Opposition protesters are likely to scorn Monday's verdict as another sign of how the political and judicial system is stacked against them. Since a military coup in 2006 against Prime Minister Thaksin Shinawatra, the courts have dissolved four political parties allied to Thaksin, including two that won the largest number of seats in parliament.
Critics accuse Thailand's royalist elite of using the courts to undermine democracy and strike out pro-Thaksin politicians so that the conservative Democrat Party can rule with military backing.
---